Bazyliszek, a new interactive dark ride, has opened at Legendia in Poland.
The new attraction is part of the recently re-branded Legendia theme park (formerly called Silesian Amusement Park) and it promises a one-of-a-kind experience featuring the latest in dark ride technology. 
Bazyliszek is the first interactive dark ride of this type in Poland, featuring 10 technologically advanced vehicles each accommodating 6 people. The attraction covers an area of 1000 square metres and the experience lasts over 3 and a half minutes. It can accommodate 744 people per hour.
The storyline and concept of the attraction is based on the well-known legend of Basilisk, which appears in folklore and mythology in many parts of Poland.
Participants of the game travel through the magical world of Basilisk, which consists of 7 scenes, specially designed and produced for Legendia, containing the original story and characters.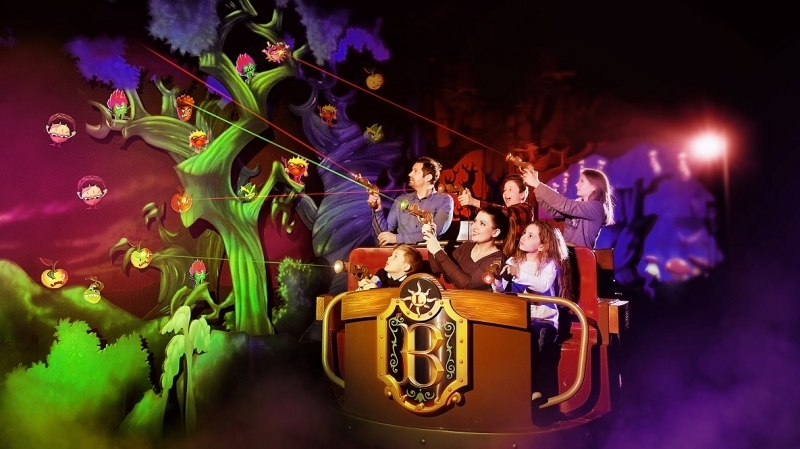 The adventure starts in the Monster Hunters' Guild room, where they see a multimedia pre-show, then take a seat in a ride vehicle and pass through an old village, dark caves, forests and ruins.
Riders are equipped with a laser gun and their mission is to overcome the monsters and other obstacles that appear on the route then defeat the monster that terrorises the villagers. Participants will stand eye to eye with Bazyliszek at the very end of the journey.
The riders are then scored and the results are visible on a multimedia board, which also ranks the bravest hunters, and the best shooter will be announced on the last day of the season. 
Alterface has overseen the ride experience as main contractor for the attraction, applying their latest interactive technology including video mapping, show control and shooting devices. Jora Vision devised the theming and ETF has supplied the ride system. 
Ben Cornet, Founder and CEO of Alterface:
"We truly enjoy crafting this new ride and fascinating story with our trusted partners. Based on Polish legends, we are reflecting the folkloric spirit to emerge visitors into a true experience. It's always a great challenge and pleasure to incorporate our technology in the ride, making sure it is not visible for the guests so they can fully enjoy the story and scenery. Our signature show control software Salto!™ operates behind the scenes and manages the entire attraction. It registers all moves and orchestrates lighting and sound, the shooting system and vehicles, as well as animatronics and photo capturing."
Robin van der Want, Project Development Director at Jora Vision:
 "Legendia is currently upgrading its park based on a master plan we created in 2015. Attractions are being relocated and new rides are integrated into the park. We are convinced that Legendia — being a regional theme park — is setting a great example by investing in such a high-quality dark ride experience."
Laurence Beckers, Special Projects & Technology Scout at Alterface:
"Entering the headquarters of the Monster Hunters Guild, guests are driving through an ancient village, dark caves, magical forests and ruins to fight all kind of creatures. At the end of their journey they finally reach the ferocious Basilisk, the largest and scariest monster of all. During the entire tour guests use their Monster Hunter Gun, an Alterface designed weapon using special light and mirror technology for special effects. Excitement and fun will be guaranteed for young and old throughout the entire ride!"
Simeon van Tellingen, Creative Director at Jora Vision:
"The story of the Bazyliszek attraction is based on authentic Polish folklore. Guests will get a specific task in the queue and pre-show and finally board a vehicle to make an exciting journey through the magical forests of Poland. Trees and plants come to life and take all kind of forms and shapes, aligning the scenery with the story and enhancing the ride experience."